News
Tesla Model 3 Issue and Affordable Accessories to Fix Them
by JULIET YU on Feb 25, 2022
Like all Teslas, the Model 3 is an incredible piece of machinery and technology. From long-range batteries to Autopilot, this crossover is sure to be a very welcome addition to Tesla's lineup. That said, it's not without flaws. Thankfully, some of these problems are easy to fix. With that in mind, here are some Model 3 issues and a few accessories to help fix design.
The first problem on the list of Tesla Model 3 problems and how to fix them is tesla paint protection.
Why do I need to install mud flaps on my Model 3?
The paint quality of the Model 3 (and Model Y) is known to be problematic. The Model 3 is in such bad shape that after a few weeks of owning you will find wear and debris in the Tesla rocker area, debris and dirt from the road will cover your Tesla on the exterior of the Model 3 and will promote corrosion. At any point, these can develop into larger areas of corrosion. This both reduces the value of the vehicle and affects the appearance of the vehicle. Without mud flaps, your Model 3's paint finish is very fragile. And in cold weather, lots of snow and ice don't seem very friendly to the Model 3's paint.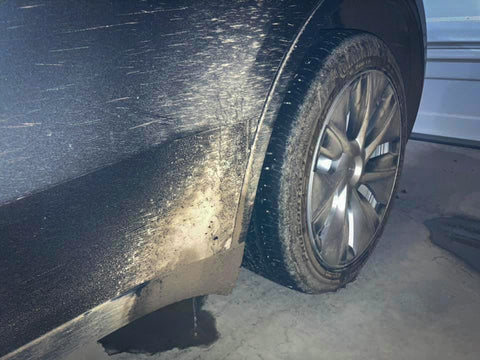 Paint Protection Film (PPF) VS Mudflaps
The problem was so severe that Tesla started selling paint protection film (PPF) specifically for the affected regions. While a good start (really, considering bugs should be free), this will only protect the area. To minimize debris blasting from the sides, you need mud flaps. That's where the mudguard comes in.
About PPF
This plastic film acts as a protective barrier around your car. It helps reduce debris and scratches and even protects your car from the sun. Many Tesla owners protect their vehicles with PPF. Cost and coverage, as you can do partial applications to high impact areas (clear bras, fenders, bumpers…), or a full mount to the trunk.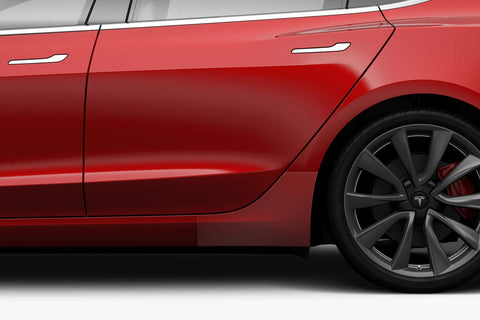 About Mud flaps
Aside from PPF, the best way to protect body paint is to install fenders.
You can protect your Tesla model 3 for just $30, the most affordable accessory. Tesery mud flaps are differ from others in that the materials used are unbreakable. Best of all, they've been tested in the cold of Canada and they roll, twist, but never break. The Tesery mud flaps create the perfect fit for the Model 3 (Model Y). With these mud flaps, debris can stay away from the vehicle. This significantly reduces the amount of gravel and perfectly keeps the body clean from disturbances and stains. This also saves Tesla owners a lot of time by not having to go to the car wash as often.
Installation is fairly basic, even for someone like someone who has never installed any accessories by hand. That said, there are a few tools and tricks to make your installation easily.
As we know, Tesla's infotainment display—whether you have an old Model S or a new Model Y—is at the heart of nearly every car's controls. For this reason, protecting it is essential.
Looking for the best screen protector for your Tesla
Tesery offers an easy-to-install screen protector that reduces glare and fingerprints and doesn't make using a touchscreen any worse. What more could you ask for in a basic tempered glass screen protector?
If you're looking for a quality matte screen protector for your Tesla Model 3 or Tesla Model Y, this is what I recommend. It's of good quality and sells for about $20.
See the video on how to install a screen protector.
Are you still clicking sideways on the diaplay of your Tesla?
When driving, we often encounter a problem. If you look at the big screen while driving, there will be reflections and you will not be able to see clearly.
Sometimes when you want to turn on a function, you will occasionally click the wrong button or you have to turn your body to complete the operation. This is not only very inconvenient to operate, but also harmful to drive. Safety will also constitute a great threat, which greatly affects our driving safety.
Provide a better driving experience
Tesery specially designed this swivel bracket V2 for eccentric people. It has been upgraded based on V1. It can not only rotate 30° left and right but also 15° up and down to provide more viewing angles.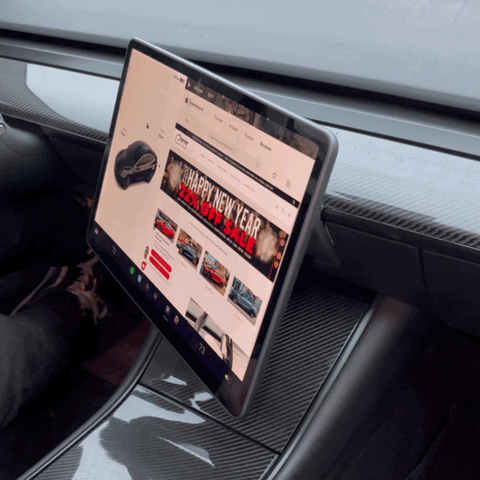 For the driver, the screen can be rotated to get a better view and eliminate glare, without blocking the line of sight, making driving safer;
After installing the screen, enjoy a comfortable 360° surround view. The screen is rotated to your favorite angle. When you are resting, you can watch movies in the car and play games very comfortably;

Not only can be used by the main driver, but also by the co-pilot, you can share the screen with your passengers, and it can be rotated to view and interact with the screen more easily.
Have you ever been locked out of your car because you lost your tesla key fob?
Whether you go out and don't want to carry any kind of thing with you, including your key fob, the Tesla Ring Key is a very good option. Problems like runners, surfers, triathletes, hikers, and more seem like students can benefit from this research technique—though, at $100 per ring, it's not cheap. Another Tesla owner said: "I just use my cell phone, or my wife's cell phone, to get in and out of our Model 3. But if you're driving out into the country, when the phone has no power or no signal, the smart ring is A simple and effective first-aid solution. Compared to a Tesla key fob, your smart ring requires no charging and no batteries.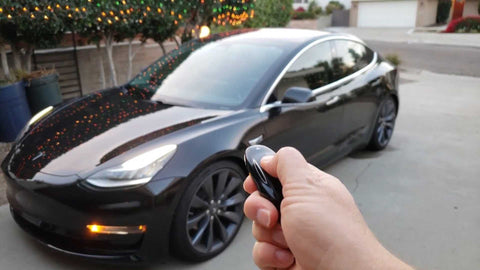 How to use the ring key?
To lock or unlock, just tap your keyring into the center of the pillar on the right side of the cab window. If you start your car with the keyring, you don't have to let your key ring stay behind the cup holder, just leave within two minutes. Even if you need to tap your keyring behind the cup holder, it only takes a second. There is no need to keep the keyring there all the time.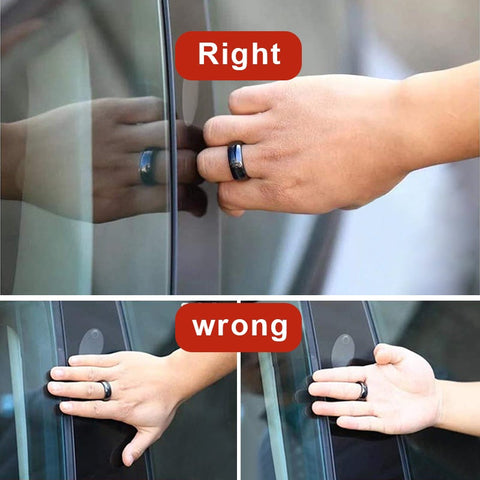 Best companion
Advanced integrated design and sealing technology, it reaches IP68 waterproof level, suitable for use on various occasions, and can also be used safely in the bathroom, more comfortable and more intimate. No need to take it off every day, no matter where you go, the smart ring is your best companion. The sophisticated look ensures that you can stand out while running, playing tennis, or attending formal dinners.
Is there such a problem with driving?
When the low-temperature strikes, there is no electric heating; in summer, the high temperature exposes the leather to hot hands; the hands sweat too much, which affects safe driving.
The steering wheel is a combination of motors, switches, circuits, and many other things, and for its durability, you have to maintain Tesla wheel covers on it. A steering wheel cover is a must for your car's steering wheel as it protects your steering wheel.
In fact, the main purpose of the steering wheel cover is nothing more than the following purposes. First, it is to prevent the pollution of the steering wheel. You may feel that the steering wheel will become dirtier when you touch it with your hands. The second reason may be that it feels better after the steering wheel cover is installed, and it is warmer in the cold winter. The third role is to play a decorative role to enhance the driving experience.
How to choose the right steering wheel cover?
Tesla owners raised a question. Although the steering wheel cover is warm and stylish, will it affect driving safety? All kinds of steering wheel covers, what kind of material is the most suitable?
The biggest disadvantage of the steering wheel cover is that it slips. Therefore, when selecting the steering wheel cover, it is necessary to choose larger inner friction, and there will be no slippage after installation.
In response to this problem, Tesery specially designed a steering wheel cover made of suede material to ensure a stylish appearance while keeping warm and preventing slippage. The steering wheel cover is specially hand-sewn and customized. The stitching of this cover is very firm, and it fits very well with the original steering wheel, and it hardly feels thick. Different from other steering wheel covers, the Tesery steering wheel cover has stronger sweat absorption and anti-skid characteristics, has a strong grip, and does not slip, so the racing car used Alcantara material earlier.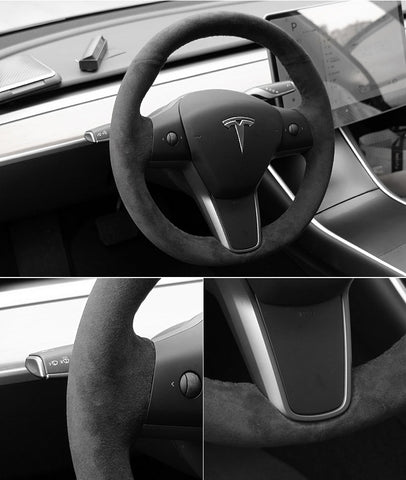 When jacking up any Tesla, particular care needs to be taken to avoid any battery or paintwork damage, which of course can result in thousands of dollars in repair costs, which no one wants.

This is since Teslas have a very unique underbody design compared to regular vehicles as the majority of the underside is taken up by its high-voltage battery.
Although you can use generic jack pads or jack adapters with all Teslas, the Model 3 can take advantage of specifically designed jack adapters that click into its jack points and provide a much safer and sturdier jacking point that won't slip or move when lifting the vehicle.
There are many different Tesla Model 3 jack adapters available, some are excellent whilst others can be downright dangerous. A quality jack pad is a must-have Tesla accessory for your Model-3 or Model-Y that you can easily keep handy in the Frunk.
Choose the most suitable jack pad
In this article, we'll discuss what to look for when choosing the best Tesla model 3 jack pad for your needs. This Tesery jack pad is more affordable than most other options, and the one-piece molded rubber is more durable than most. Additionally, the post features a hollow point for centering the jack socket, allowing a precise positioning of the tool in place. Unlike other jacks on the market, it is easily deformed under heavy load and improper use, and the rubber smell will not disappear.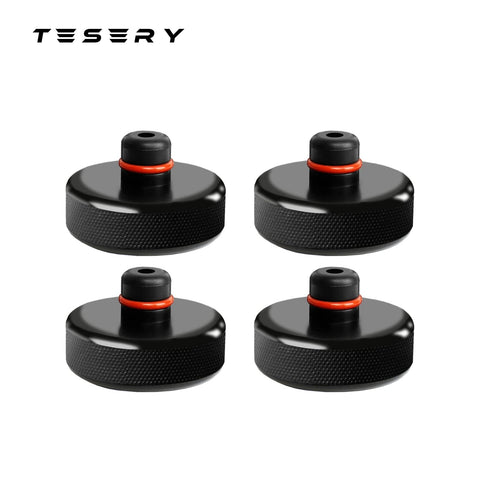 Despite the many problems with the model 3, thankfully, Tesery has been focusing on Tesla cars. When Tesla cars encounter problems, Tesery can provide the perfect solution and upgrade configuration in time.
About Tesla eliminating the dashboard in front of the driver, if you want to know more, you can click on my next blog and the article will answer this question for you.
Next blog:Aftermarket Instrument Panel Fix Tesla Model 3's Main Missing Points